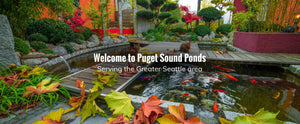 Pond Installation or Maintenance
Call 206-466-8683
We offer array of pond services like, Complete new Pond Installation, Pond upgrades, Total pond clean outs, and Repairs. Consultations are also available for new and existing ponds. Click below for new pond installs or pond maintenance.
Who we are?
We've made a name for ourselves in the pond industry by serving our customers with expert advice, great customer service and quality products.
About Us ❯
Subscribe to our newsletter
Promotions, new products and sales. Directly to your inbox.